Sodick Europe is delighted to announce a new generation of high-precision EDM die sink machines: the AL40G and AL60G, incorporating the latest electrical discharge control technology, together with Artificial Intelligence functions and a precision thermal compensation system – as well as Sodick's own market-leading linear motor technology.
In the 20 years since Sodick launched the world's first linear motor driven EDM the company has shipped more than 50,000 such machines, which have won international recognition for their technical superiority.
The new die sinkers provide improved machining accuracy, speed and quality, from roughing and semi-finishing through to finishing, as a result of a range of new technologies including the latest EDM controls and electrical discharge circuits.
In addition, the machines benefit from a highly rigid structure, with temperature sensors installed throughout the machine body, to minimise the effect of temperature changes during high speed machining.
Large, easy-to-operate,19-inch touch panels come as standard, while the LN Professional Artificial Intelligence program ensures ideal machining conditions at all times, enabling the AL40G and AL60G to be operated optimally by both beginners and experts alike.
Ease of access is provided by the three-sided, automated, vertical drop machining tank, which enables the incorporation of a wide variety of automation technologies.
Advanced Machine Design plus Linear Motors
These machines are equipped on the XYZ axes with Sodick's high-output linear motors, providing excellent machining performance and maintaining high accuracy over long periods of time. The linear motors are driven by the newly developed SP power supply which enables highly accurate positioning and also doubles servo responsiveness compared to conventional technology.
The extremely rigid machine structure was optimally designed using state-of-the-art CAE analysis technology, while the incorporation of a new precision correction function, "TH COM", minimises the effect of temperature changes within the machine, reducing the amount of thermal displacement by 50% compared to a conventional machine.
Linear Jump and Ceramic Slider
The new AL40G/AL60G series is equipped with Sodick's independently developed lightweight, high rigidity ceramic sliders with low thermal displacement for the slide portion of the main spindle linear motor. The combined effect of this together with the high speed, dynamically responsive linear motor results in greatly improved straightness and a smooth drive, significantly contributing to increased speed and the stable machining of deep ribs. The high-speed jump effectively discharges machined tips, reducing abnormal arcs and the machining shape defects attributed to secondary discharge, thus greatly reducing the machining time.
Stable Electrical Discharge System "SGF4"
The incorporation of Sodick's "SGF4" advanced electrical discharge control technology in which an "arc never occurs", greatly improves die-sinking performance, increasing speed, reducing electrode wear and enabling an extensive range of machined surface qualities from satin to mirror surfaces to be obtained, by optimising the cutting technologies automatically.
Optimised, high speed, high precision machining is achieved by the combination of integrated technologies including; discharge state detection, discharge pulse control and dynamically responsive linear motor technology.
New SP Power Supply Improves Machining Performance
The new SP power supply more than doubles motor control response speed, while the quality and speed of electrical discharge machining overall have benefited from the development of new controls and circuits, including: up to 50% more cutting voltage on rough cutting (TMM4 circuit), increased semi-finishing speed (TPC4 control) and improved quality and speed of the finishing cut through accurate pulse control (BSN4 circuit).
Automation-ready
In response to the increasing demand for automated systems, the new AL40G/AL60G series has been designed to support a variety of automation solutions. The new models incorporate a three-sided automated vertical drop machining tank and suspended operation panel, so that automation technology, from a simple automatic tool changer to a full-scale robot automation system, can be installed.
Artificial Intelligence and More
Additional benefits of the new series include Sodick's "LN Professional AI," which offers a wide range of applicable cutting patterns to suit various machining requirements. For each machining pattern, optimum machining conditions and axis motions are available and NC programs are automatically generated by the AI database.
Software, incorporated as standard, enables the SP power supply unit to directly and accurately import 3D solid model data, so positioning information can be input from the machining instruction by simply clicking the mouse on the solid model displayed on the operation screen, preventing human errors and greatly increasing operational efficiency.
Information from the AG40L/AG60L cutting technologies database is compatible with the new machines, to which the AL-G series adds a further new technology database with new generator features (not compatible with earlier models).
Eco, energy saving, security and safety
One of the prime considerations in the design of the AL40G / AL60G was the development of an energy-saving, recycle/reuse, people-friendly, waste reduction and maintenance free eco-friendly machine tool – in-line with Sodick's global policy of working to continuously improve its environmental impact ,which is central to the company's development vision.
More information: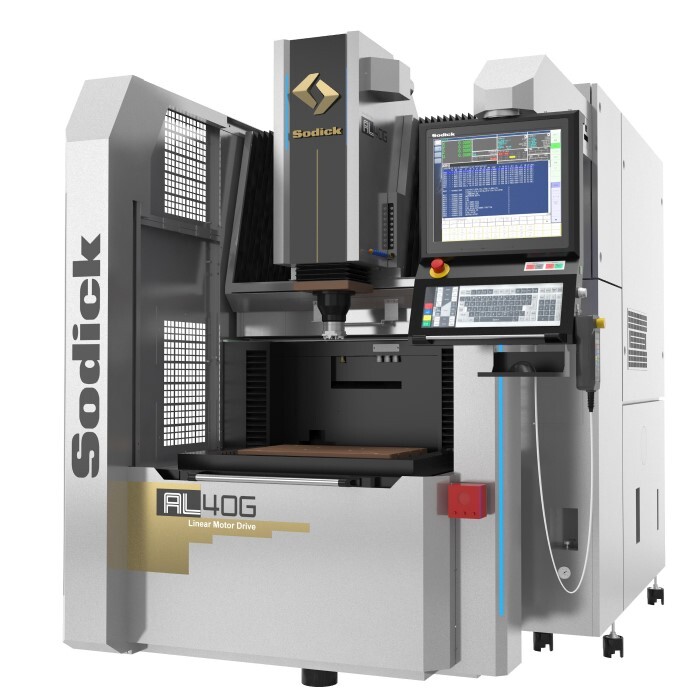 AL40G Die Sinker EDM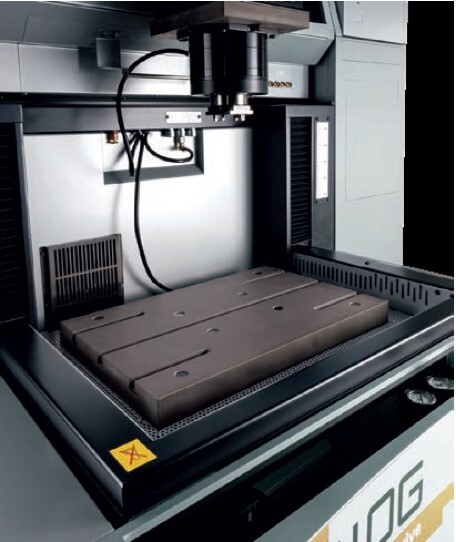 AL40G AL60G Die Sinker EDM
Back to News