With more new machines, more new technology and more to shout about, Sodick Europe, together with sole UK distributor Sodi-Tech EDM, has taken its largest stand ever at MACH 22. After a bumper couple of years – despite the upheavals and uncertainties caused by the pandemic and Brexit – Sodick is looking forward to demonstrating a wide range of the latest technology to MACH visitors at the NEC.
Sodick machines on stand 20-310 will include the latest wire EDM machines: the ALC400P and ALC600G both with iGroove technology, the VL400Q precision wire machine, an AL60G die sinker configured with an Erowa Robot and a Zeiss measurement machine, the AD35L die sinker, the UH650L high speed milling machine, the new K4HL aerospace and energy focused small hole driller and the GL30A injection moulding machine.
MACH Debut: K4HL Hole Drill Machine
Seen for the first time in Europe, the new K4HL 5-axis EDM small hole drilling machine, has been developed specifically to meet the needs of the aerospace and energy industries, for the high-speed drilling of the thousands of small, high-precision holes in exotic materials for jet engine and other turbines.
Facilities that make the K4HL particularly suited to the aerospace sector include: full 3-axis standard contouring or orbiting capability for the machining of small, high-precision diffuser holes in jet engine blades and vanes, breakthrough detection function which eliminates back-striking in small chambers - reducing the potential for part scrapping when drilling unattended, and the SPK power supply which has been developed specifically for high quality small-hole drilling in difficult-to-burn materials such as titanium alloys/nickel alloys, iron/cemented carbide/copper/aluminium/brass.
New Wire EDM machines: ALC400P and ALC600G with iGroove technology and VL400Q
Also making their first appearance at a European exhibition, the two new wire machines, the ALC400P and ALC600G are equipped with Sodick's unique iGroove technology. This new mechanism, patented by Sodick, rotates the wire during the skim cut operation, so that workpieces are machined from top to bottom with the "unconsumed" surface of the wire. Conventionally, wire electrodes are controlled solely by tension and running speed, while being constrained by a die. Sodick's iGroove rotation mechanism provides additional control over the wire, resulting in increased surface quality and improved geometric accuracy, whilst at the same time minimising wire consumption – combining the best ecological solution with the highest quality of EDM machining.
In addition to the iGroove wire machines, Sodick will also be showing the small footprint, high precision VL400Q, an ideal machine for the manufacture of high precision parts for the automotive, aerospace and medical sectors. This machine comes as standard with linear motors and absolute linear scales on the X, Y, U and V axes, excellent ergonomics, as well as options for Taper Flex NEO, Jumbo wire feeder, wire chopper and WS4P/5P rotary table.
Die sink: The new AL60G configured with Erowa Robot + Zeiss measurement, plus the AD35L
Sodick's new model AL60G combines Sodick's advanced technologies and latest innovations to provide unrivalled machining performance. In addition to linear motors and absolute linear scales on the X, Y, Z axes, the machines include a linear motor cooling unity, dielectric fluid cooling unit, nano-wear discharge unit and a wealth of other productivity-boosting technology, with additional options for C-axis SEC10, an ATC unit (6,12,16 or 32-station), high precision rotary head and 8-axis simultaneous control SP-E. At MACH the AL60G machine will be configured with an Erowa Compact 80, with JMS MoldLine software and a Zeiss DuraMax measuring probe system.
The small footprint AD35L, with its innovative design, including independent X and Y axes, offers extreme machine rigidity, enabling optimum performance at high-speed and rapid acceleration of the linear motors, to provide highly accurate machining capability.
High Speed Linear Machining Centre, UH650L
The powerful UH650L machining centre benefits from Sodick's linear drive expertise, creating a machine which avoids the necessity of separately executing rough and fine milling, and executes both machining passes in one operating mode. This results in enhanced dimensional accuracy, surface finish and tool life, so reducing cycle times and increasing productivity. Standard features include a linear motor temperature controller, LN4X controller, spindle temperature controller, tool tip cleaning system, mist coolant, collector and filer and a 16-station Automatic Tool Changer.
Injection Moulding – GL30A
The innovative GL30A injection moulding machine comes equipped with Sodick's V-Line, two-stage plunger injection system, designed to provide consistent plasticising heat profile, constant filling volume and constant holding pressure – all working together to achieve ultra-precision injection moulding. This machine is ideally suited to the manufacture of high-value added products, particularly in the electronics, optical and medical instruments sectors and in the development of next generation products.
UH650L High-speed Linear Milling machining centre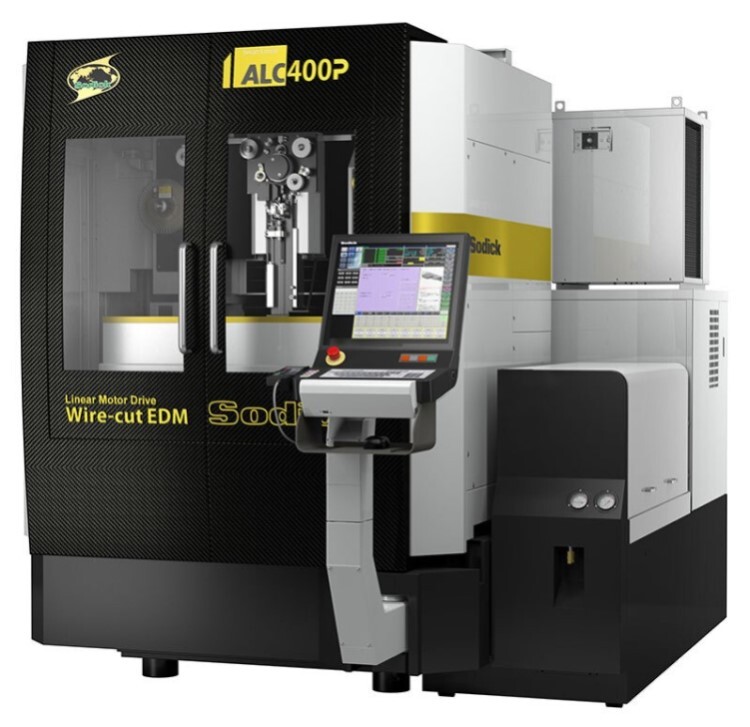 ALC400P Premium Wire-cut EDM machine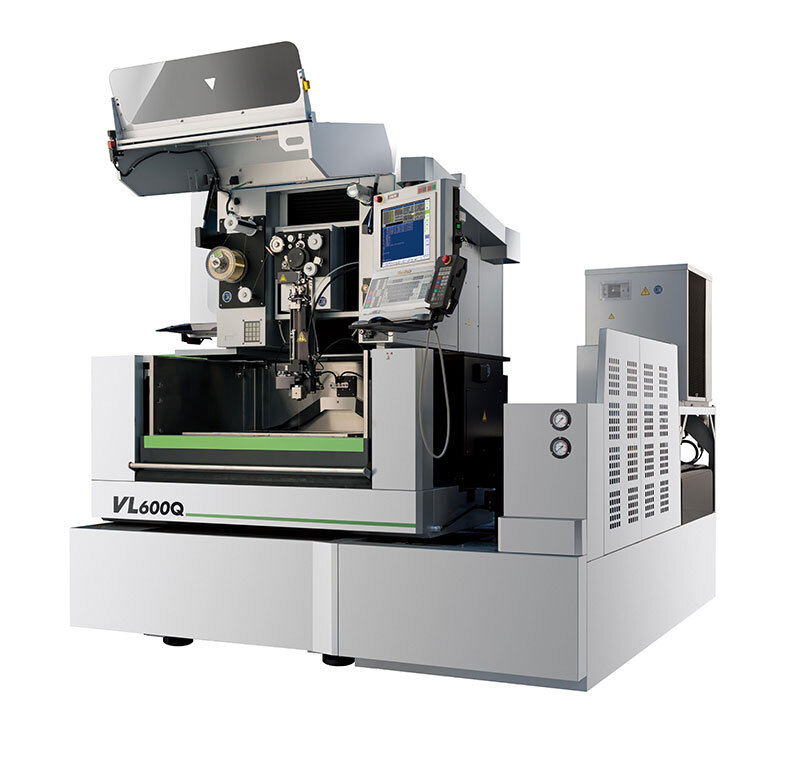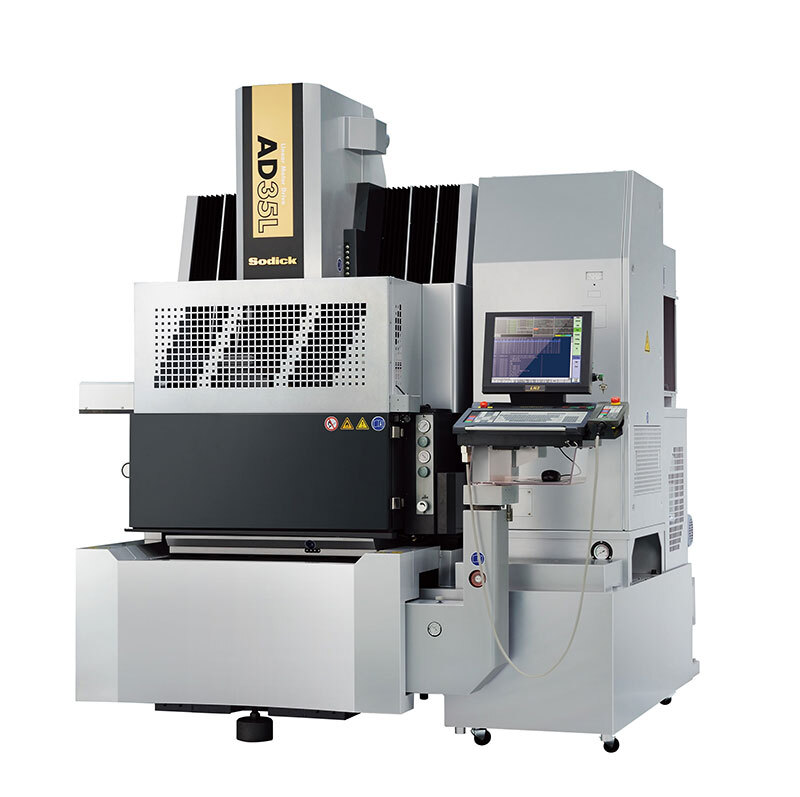 AD35L Die Sink EDM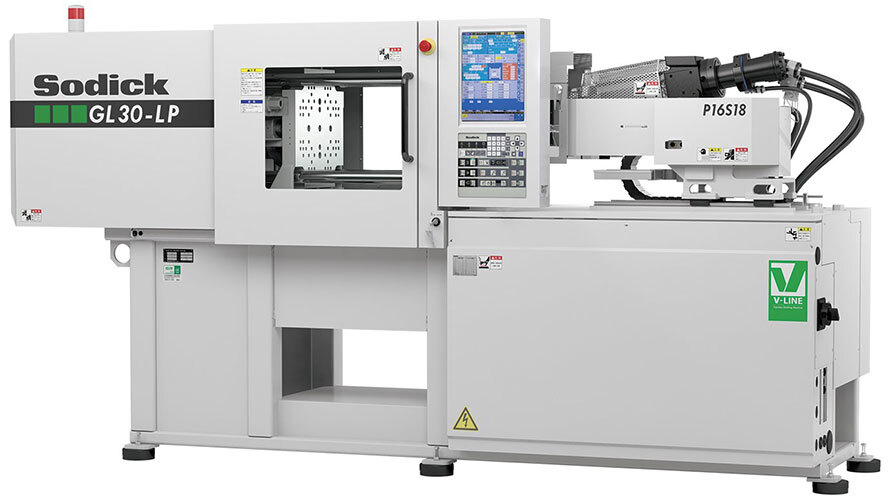 GL30 LP Injection Moulding Machine V-Line System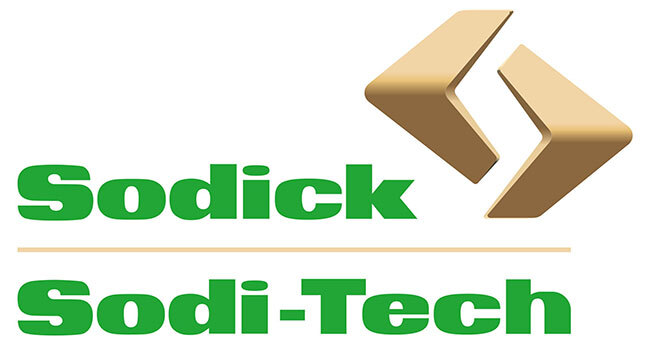 Issued by:
SMPR Limited, Dovecote Cottage, Manor Court, Stretton on Fosse, GL56 9SB
Contact: Shelagh Morgan, Tel: 01608.663425, e-mail:info@smpr.co.uk
On behalf of:
Sodick Europe Ltd., Agincourt Road, Warwick, Warwickshire, CV34 6XZ, UK
Contact: Manabu Takemura, 01926 698888, email: europe@sodick.eu.com, www.sodick.org/
Back to News