Following a recent move to a facility more than twice the size of its previous premises, RST Engineering has invested in another Sodick AG60L die-sink EDM to help keep pace with a growing order book. Installed in February 2018 by Sodi-Tech EDM, the machine joins an existing AG60L that has performed impressively since 2012. The two machines are now working side-by-side producing a host of complex parts such as titanium internal gears and splines for the motorsport industry.
Established by Robert and Maureen Taylor in 1986, and now run by their sons Sean, Jason and Paul Taylor, RST Engineering has proven itself to be a progressive and ambitious precision engineering business based in Leighton Buzzard. The recent move to 7,100 ft2 premises has allowed the company to grow and improve its services with investment in machinery, staff, training and inspection equipment. Today, RST has 15 employees and is currently in the process of taking on two apprentices. The company specialises in EDM (wire and die sink) and milling (including five-axis machining) to help it produce complex parts for sectors such as motorsport, which is presently proving particularly strong.
"We've had Sodick wire EDMs in the business since 1998, after which we standardised on Sodick machines," explains company Director Jason Taylor. "However, we've only had Sodick die-sink machines since 2012, when we bought our first AG60L. The machine has proven so reliable in terms of performance and quality that, when we needed more capacity, there was only ever going to be one choice. We didn't even look elsewhere."
The new die-sink machine, another Sodick AG60L, now helps RST manufacture a myriad of complex motorsport parts from challenging materials, such as titanium, as well as tungsten carbide components for other industries.
"There are some peaks and troughs with motorsport, but generally the work is fairly continuous," says Mr Taylor. "We spark a lot of internal gears and splines for Formula One and other racing disciplines. It's all low-batch, high-precision work. Tolerances of 10 µm on form are normal when it comes to internal splines and gears, but the Sodick machines hold that very consistently."
A 24-tooth motorsport spline might take around 4½ hours in cycle time and RST prefers to produce many of its long-running jobs unmanned overnight. With this thought in mind, the sole upgrade requested by RST for its new AG60L was the option of a 12-station tool changer, rather than the standard six-station version.
"Due to the inherent challenges associated with machining titanium we tend to burn through a larger number of electrodes," says Mr Taylor. "As a result, we needed a tool changer with greater capacity for when we run lights-out. In fact, we also opted to upgrade the tool changer on our existing AG60L, which was retrofitted by Sodi-Tech EDM."
According to Mr Taylor, programming is a stand-out feature of the Sodick machines, a function that offers a high degree of flexibility.
"The control is so easy to use," he says. "There's the ability to do conversational programming, which is very comprehensive, or you can write an entire program yourself from scratch – and even bounce between the two methods. Three of us are trained to program the Sodick machines."
RST also has four Sodick wire EDMs equipped with linear drive technology, two AQ325L models, an AG600L and an AQ750L with 500mm capacity in the Z axis.
"Our biggest selling points are quality, delivery and flexibility," says Mr Taylor. "We work closely with our customers on complex components made from difficult-to-machine materials; always looking to find the best manufacturing solutions to produce the finished part to the required accuracy and within budget."
RST clearly prides itself on quality, providing a professional service, loyalty and flexibility towards customers with whom it has built strong relationships over the past 30 years. The company currently holds AS9100D & BS EN ISO 9001:2015 quality certifications, while all of RST's inspection equipment is externally calibrated and operates in a temperature-controlled environment.
A final word is reserved for the professionalism of the support team at Sodi-Tech EDM, which has become an important business partner for RST.
"Both of our Sodick AG60L die-sink machines are utilised all of the time with a fast turnover of work," says Mr Taylor. "Like the wire EDMs, they have become an integral part of our business. If we ever need to ask something of Sodi-Tech EDM they are always very responsive – they have highly knowledgeable people. This is very reassuring, not just for our motorsport customers, but those in other sectors we serve, such as metrology, satellite, aerospace, scientific and medical."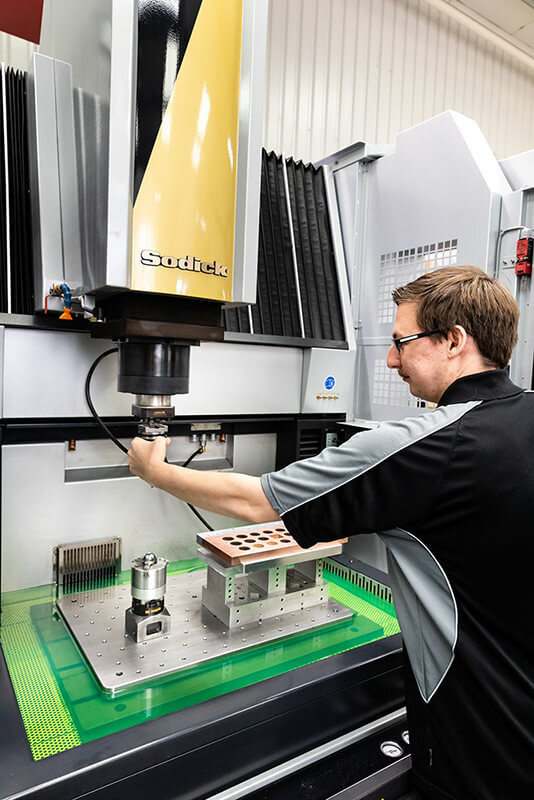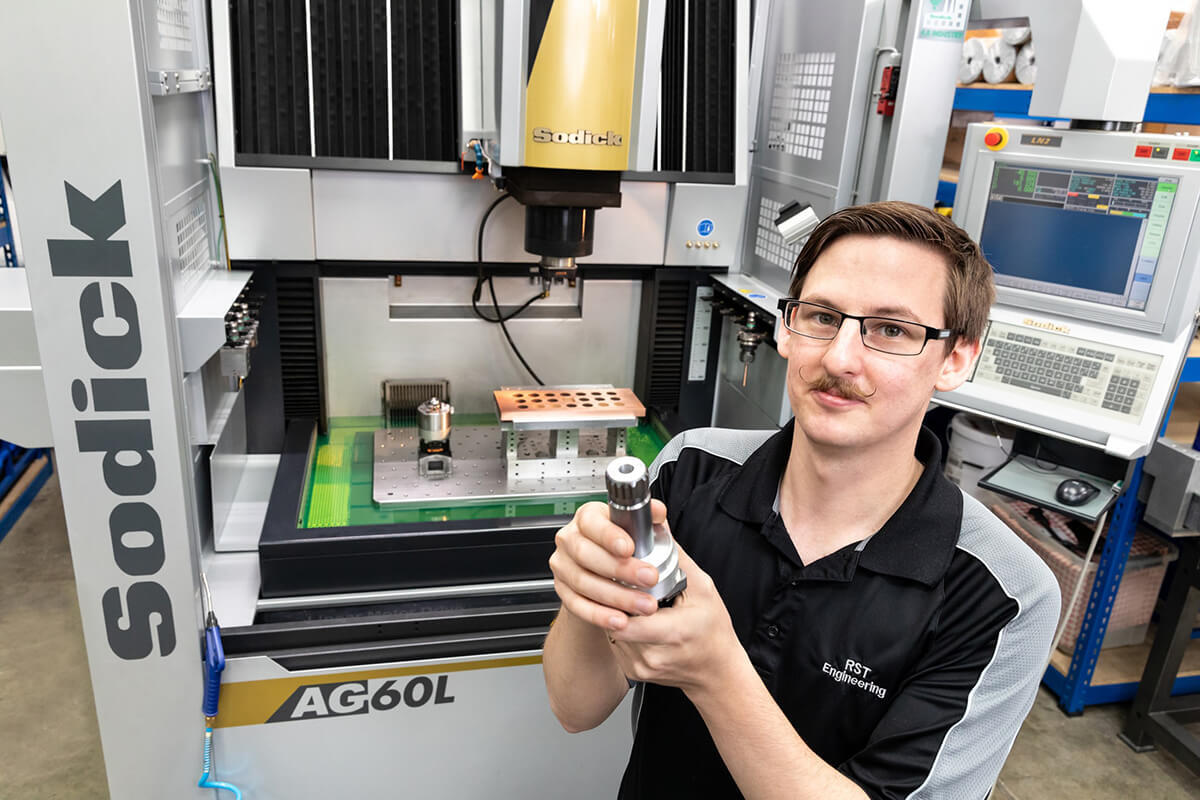 Digital Images: STPR227-1/2/3: Sodick tecchnology installed at RST Engineeering. Operator Vinny Barcock-Jones, Spark Eroder.
RST Engineering Ltd., Unit 1, Youngs Industrial Estate, Stanbridge Road, Leighton Buzzard, Bedfordshire, LU7 4QB. Tel: 01525 850797, e-mail: enquiries@rsteng.co.uk, www.rsteng.co.uk
Issued by:
SMPR Limited, Dovecote Cottage, Manor Court, Stretton on Fosse, GL56 9SB
Contact: Shelagh Morgan, Tel: 01608.663425, e-mail:info@smpr.co.uk
On behalf of:
Sodi-Tech EDM Ltd., Rowley Drive, Baginton, Coventry, CV3 4FG
Contact: Peter Capp, Tel: 024.76.511677, email:info@sodi-techedm.co.uk www.sodi-techedm.co.uk
Back to News