Exhibitor at EMO 2015: Hall 9, Stand A26/B17
Once again, Sodick is bringing leading-edge technologies to its stand at EMO, demonstrating the unique OPM250E combined 3D Printer/Milling Centre (seen for the first time in Europe), the newly announced VL600Q entry level wire machine (making its world debut) as well as the Premium SLC600G precision wire machine, the AP250L and the AG60L, Sodick's best selling sink machine.
OPM250E Combined 3D Printer/Milling Centre
The new and unique Sodick OPM250E metal 3D printer with integral linear motor drive milling centre represents the industry's first one-step solution for the entire metal 3D printer process, built on Sodick's unsurpassed technical expertise in precision parts processing.
The OPM250E has been developed to provide particular benefits in the design and manufacture of plastic injection mould tools, combining the ability of metal 3D printing to create cooling channels of optimum shape and geometry, which cannot be machined by conventional means, with the high speed milling necessary for tool finishing.
This new machine enables the creation of forms exactly as the engineers and/or designers have created them in their minds, without the need for compromise due to the constraints of conventional machining capabilities, complicated setups and dedicated tools.
In simple terms the OPM250E operates as follows: first, a metal powder is uniformly coated and then melted and solidified by scanning with a laser beam (this process can be repeated up to ten times) after which the surface is subjected to high speed milling with a rotary tool, creating the high quality accuracy, precision and finish which are not achievable with a laser process alone, after which the metal powder is uniformly coated again and the process is repeated, until the geometry is complete.
The New VL600Q Entry Level Wire Machine - World Debut
Seen for the first time ever at EMO in Milan, the new VL600Q brings all the benefits of Sodick wire EDM technology into the reach of the smaller machine toolroom and companies who are just "putting a toe in the water" of EDM machining.
As the follow-on machine to the highly successful VZ500L, the VL600Q naturally incorporates Sodick's Linear Motor drive technology and absolute linear scales on the X/Y/U and V axes, as well as a Sodick Motion Controller, a dual filtration system and advanced wire tension control, while the high-speed dual core processor ensures exceptional processing speed.
This new model features a work-tank whose inner dimensions are 1040mm x 780mm, with a maximum work-piece weight of 700kg (submerged), and, with generous X, Y and Z axis travel (600mm, 400mm 270mm) the new VL600Q, has the capacity to undertake a wide range of work for applications in many different industry sectors.
Furthermore, the new model has an Automatic Wire Threading (AWT) unit with "pop-up" function to achieve even more reliable wire threading.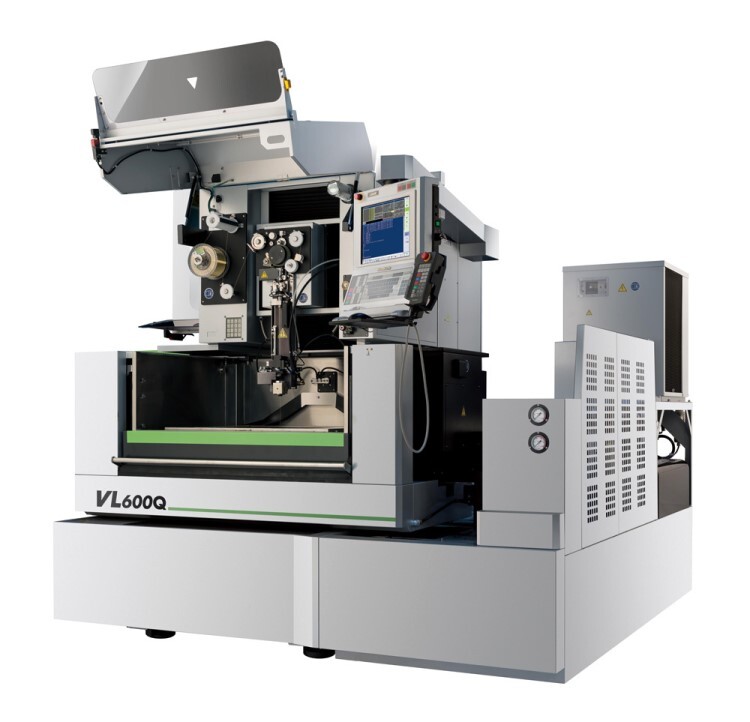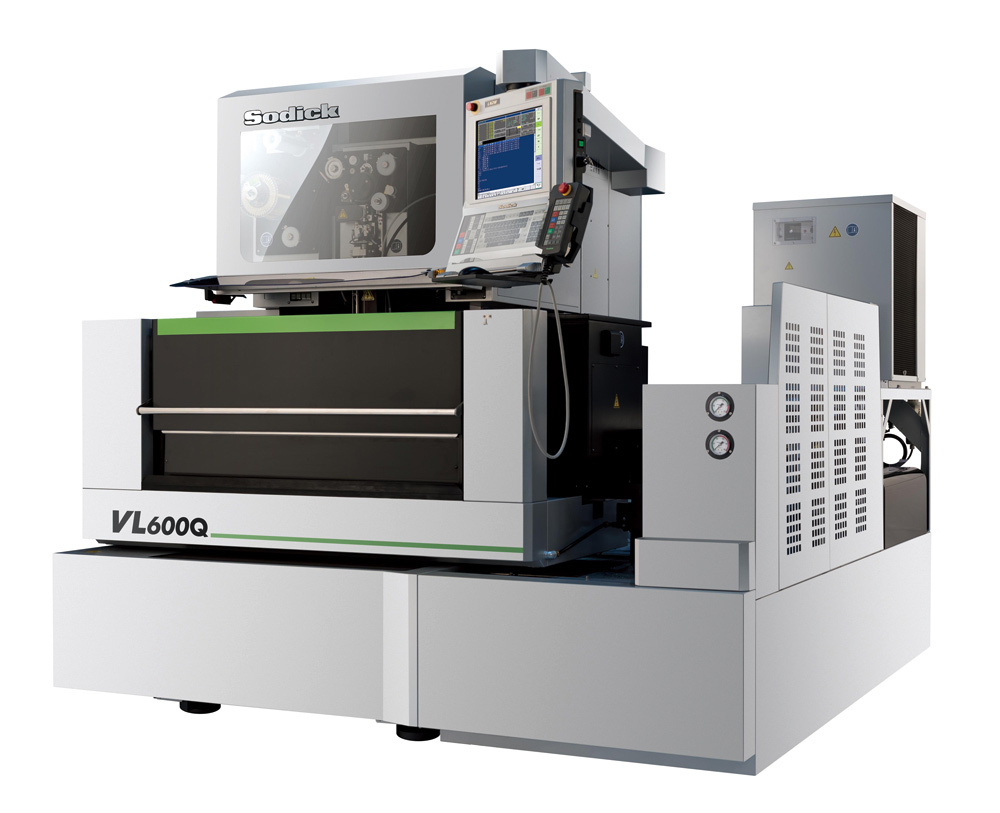 Premium SLC600G Precision Wire EDM
Sodick's Premium SLC600G incorporates a raft of leading-edge technology, SL stands for "Smart Linear", and this aptly named machine increases machining speed by a significant margin as well as halving average energy consumption compared to conventional EDMs. Naturally, it also comes with Sodick's unbeatable 10-year positioning accuracy warranty as standard.
The increase in machining speed is achieved by incorporating advanced wire electric discharge control technology, including Sodick's "Digital PIKA circuit" - which increases finishing speed through the use of ultra-high frequency digital pulse processes, together with the new TMP controls. In addition, the "SPW power", NC device, with its dual core processor, provides high speed, high-precision machining and the highest quality surface processing. The Smart Pulse generator reduces the number of cuts necessary to achieve the desired accuracy and surface finish, achieving both time and cost savings.
Additional features include a fast automatic wire-threader, a tension servo function and an automatic liquid level control. Furthermore the exterior design has been engineered to provide a compact, fully enclosed machine, with excellent operator access, in-operation visibility, and increased safety features.
AP250L High Precision Oil Dielectric Wire Machine
Incorporating many Sodick in-house developed technologies, including the LP2W Controller, the Automatic Wire Threading (AWT) and Fine Pick-up Function (FT II), the AP250L offers users a top-of-the-range solution to their wire EDM requirements.
The use of oil dielectric fluid has always been seen as the best solution for high-accuracy, high quality surface finish in EDM work, due to the smaller spark gap required, and Sodick has been both a pioneer and a market leader in this technology for over 30 years.
Previously, the smaller gap resulted in a slower cutting speed. However, in the AP250L, Sodick has integrated its in-house developed "ECO Cut O" generator, which offers major improvements in cutting speed and number of cuts required when using oil dielectric. So much so that the AP250L takes the same cutting time to achieve a surface finish of less than 0.15μmRa, with oil as it would do using water dielectric fluid.
In addition, the combination of a linear motor drive system with the machine's gantry structure ensures excellent positioning and machining accuracy by taking full advantage of backlash-free, rapid axis movement, while minimizing any deformation of the machine structure, while the dielectric chiller and the surface level adjustment function ensure stable machining performance right from the moment the machine is turned on.
AG60L Sodick's Best Selling Linear EDM Die Sink
Naturally, the AG60L, Sodick's flagship high-speed, high-accuracy die sink machine, utilises the Linear Motor drive system with which Sodick has led the market since 1999. Furthermore, in common with all AG series machines, the AG60L benefits from additional advanced technologies, for example the TMM3 electric discharge power supply unit, which increases machining speed when machining cemented carbide and other difficult-to-cut materials.
Ease of operation is ensured with an ergonomically designed control panel, which provides touch-screen operation and LAN function, while the LN professional automatic programming system offers a wide variety of machining shape patterns.
In addition, the LN Series power supply unit incorporates all the functions necessary for high-speed, high-precision and high-efficiency EDM work and incorporates a CF card for data storage to enhance reliability and to save energy. The AG Series also features a number of specifically energy-saving designs and technologies that allow them to reduce average energy consumption by up to 60%.
Back to News